Relics of "Ferry Farm"
Genealogy Tips by Jeannette Holland Austin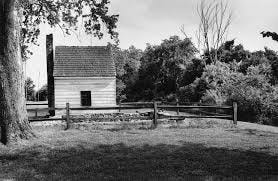 Pictured is George Washington's "Ferry Farm" in Spotsylvania County. The Ferry Farm of the Washington family was operated until about 1738 when they removed to Stafford County. It was called Ferry Farm because people crossed the Rappahannock River on a ferry from the Fredericksburg farm. One cannot help but wonder why this farm was abandoned by the Washingtons, unless the Indians were driving settlers back eastward. I have found this to be the situation by reading pensions of the Revolutionary War Soldiers who had enlisted in the West, and returned to the Southeast to fight in the "Southern Campaign". Spotsylvania should researched along with the counties of Augusta and Botetourt, as there was a stream of immigrants settling the area during the 18th century.
New Additions added to Virginia Pioneers
Images of Wills, Inventories, Accounts 1772-1798; 1798-1804; 1804-1810 See more Spotsylania County Records Online