Lots of Good Records in Columbia County, Georgia
Genealogy Tips by Jeannette Holland Austin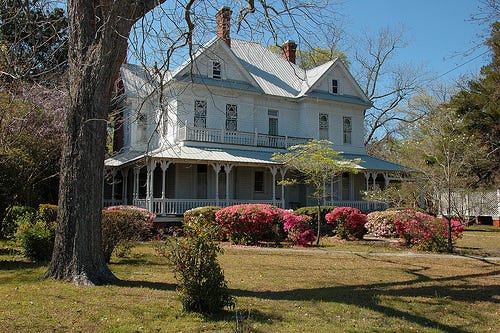 Pictured is an old historical house in Baxley, Georgia.
Columbia County, Georgia was created in 1777 and includes Augusta where settlement grew in the early days from Indian Traders to Quakers. One should research the records of Richmond County, Georgia and Edgefield County,, SC records in conjunction with Columbia. Most of the settlers came from Windsor and North Augusta, South Carolina (Edgefield County) and represented a montague of religious groups. Land Grants were taken up after the Revolutionary War and should always be considered. Georgia Pioneers has images of the land grants of 1784-1785.
Genealogists should note that the Richmond County land grants could have fallen into Columbia County. I have found researching the records in Columbia County to be satisfying. For example, the deeds generally clarified relationships, as they passed title to lands. Deed records survived as early as 1791. Careful research in this particular county should unfold some pretty interesting history of your ancestors! Georgia Pioneers has a complete listing of all the court house records of Columbia County, including images of original documents.